INTERFILIÈRE SHANGHAI has been held for 16 sessions. It attracted nearly 5,000 visitors and over 150 exhibitors from 15 countries and regions in 2019 and was postponed in 2020 due to the pandemic. It will be back to the stage next year from August 26-27, 2021 at Shanghai Exhibition Centre with a focus on three key intimate apparel markets, namely, lingerie, swimwear and sportswear, providing the industry a platform to explore a wide range of products from Asian and overseas suppliers, and one-stop solutions for suppliers and the industry chain.
INTERFILIÈRE SHANGHAI 2015 took the lead in introducing high-performance sports underwear, as well as the technical aspects about human body structure and creative textiles and accessories. Since then, the show has been paying attention to functional underwear in the fields of sports, health, medical and auxiliary services. After the hit of the pandemic, more consumers take sports as part of high-quality life and emphasize health, comfort, functionality, and performance. In 2021, we will turn our eyes to sports again, and open a special sports area in the exhibition to release the latest trends and hold hotspot conferences. INTERFILIÈRE SHANGHAI 2021 will interconnect diversified channels and resources, support product and technological innovation, and promote closer communication between sports brands, channels and consumers.
Focus on
body fashion

Book your stand now! Enjoy the Early Bird Price before 31 March 2021.
2019 Show Review
10,000

㎡


Space
150
Exhibitors
5,000
Visitors
8
Conferences
5
Trend Forums
10
Fashion Shows
Exhibitors Profile & Visitors Profile
Exhibitors Profile:
Fabrics/fibers, lace/embroidery, textile machinery & technology, OEM/ODM manufacturing, accessories, textile designers & trend forecasting agencies.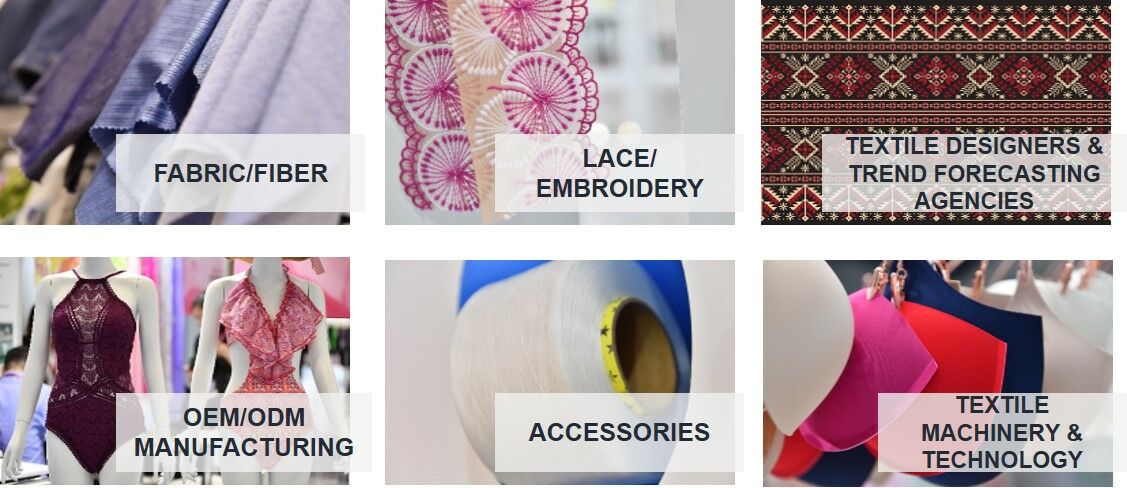 Visitors Profile:
Brand owners, brand agents, manufacturers, buyering offices, international trading companies, B2B e-commerce platforms, selected stores, design institutes, professional fashion trend agencies, industry associations, media organizations.
2021 Show Highlights
Business Matching
New Opportunities for Exhibitors
In 2021, INERFILIERE will serves as a professional platform with unique features, and invite professional buyers, including R&D experts and designers of top brands, to hold one-on-one meetings. In addition, the organizers will provide a VIP lounge area for exhibitors and buyers where they can enjoy complimentary coffee, beverages and snacks in a comfortable environment.
Fashion & Trends
Trends Forum & Prototypes Shows
Concepts Paris will once again partner with exhibitors to display the 2023 S/S Trends, with international designer Ms Jos Berry presenting a selection of cutting-edge work and the hottest items globally. Such a much-watched prototype fashion show will be another highlight of the event.
Conferences
Exploring Industry Hotspots

INTERFILIÈRE

Shanghai features a number of conferences that will bring together experts worldwide to discuss the hottest topics of the industry with visitors, including 2023 S/S fashion trend and color range (Concepts Paris); industry market report releasement (China/Asia); sustainability and industry hotspots; consumer behavior analysis; panel discussion and more.
Green Village
Think "Green"! Go "Green"!
From raw material to garments disposal, their environmental impact can be seen in every step of the industry chain. In order to achieve a better future, the textile industry calls for action and innovative changes to promote sustainability and circular fashion. As an advocator of green development and sustainability, the organizers will continue to launch the Green Village to publicize the importance of being "Green", as well as the sustainable solutions existing in the market and proposed by our exhibitors.
INTERFILIÈRE

'AWARDS




INTERFILIÈRE

International Influence

Participants may enjoy opportunities to communicate face to face with experts, the jury, brands, trend forecasters, manufacturers, and buyers. Brand winners will receive more international recognition and more attention within the industry.
Young Label Awards


Asia Focus

Having been launched for the first time in 2018, the Young Label Awards is attracting promising original design brands from the Asia-Pacific region. The winners will receive a free booth at the swimwear, lingerie and sportswear shows of Unique by Mode City in Paris, presenting their brand's vision with the world on an international stage. The program of the Awards will be announced later, and interested parties are welcome to contact the organizers.
The Essence
A unique and iconic Chinese brand selected by

INTERFILIÈRE

Over the past years, China has witnessed a significant evolvement from being the world's factory to the world's emerging consumer market. Brands born in China embrace their culture and open up to a wider international stage with the strongest consumer identity than before. The ESSENCE, curated by a group of experts, offers them a perfect opportunity to tell their unique stories in their own language. The Chinese market has attracted worldwide attention for its resilience in the face of the pandemic. 2021 will see a brand-new ESSENCE.
Brand Fashion Show


Fashion Insights

In 2019, " IT'S OUR ERA" FASHION SHOW caught the attention of KOLs, bloggers, media, industry players and the public. Five lingerie brands with different styles: NEIWAI, MAIMIA, MMUES, YOUBRAS, and LIVARYMIO performed a dazzling show with their latest collections and unique brand declarations.
New challenges offer new opportunities. We look forward to
meeting you in Shanghai on August 26-27, 2021.

Shanghai Exhibition Centre
Shanghai Exhibition Centre is affiliated to Shanghai Exhibition Centre (Group) Co., Ltd. Other subsidiaries include: Shanghai Expo Centre and Shanghai Centre. It covers an area of ​​93,000 m2 and a building area of ​​80,000 m2. According to their functionality, SEC is divided into two parts, the north part and the south part. With Dome Hall, Central Hall, East Hall 1, and West Hall 1, the southern part forms an exhibition area, Friendship Hall together with East Hall 2 in the north is designated as the conference area. SEC has 42 multi-functional exhibition halls, covering an area of 22,000 m2. SEC is an ideal venue for conference, exhibition, and large-scale event in Shanghai.